Welcome…
The Redwood Hyperion Suites is tucked among towering trees, tranquil water features, and award winning gardens, in the heart of Grants Pass, Oregon. Newly remodeled and expanded from the ground up, the Redwood Hyperion Suites boasts a diverse variety of rooms and suites to accommodate the most discriminating of guests.
Walking into the lobby, you'll be greeted by a member of our friendly staff, happy to point you in the direction of your room after your journey. Feel free to drop your bags, stretch your legs, and warm up in front of the crackling fire before you go. We'd love to share a hot cup of cocoa, tea or coffee, and tell you a little bit about Grants Pass, and what makes us so special. If you time your arrival just right, we may even treat you to some fresh baked cookies. At the Redwood Hyperion Suites, it's our mission to make you feel right at home, from the second you walk through our doors.
Once you've had some time to unwind, and release the tensions of the road, we'd love it if you'd take a moment to explore the grounds and see firsthand what sets us apart. More than just a place to recharge and get a good night's rest…It's true that there are many places to stay in Grants Pass, but what makes us truly special is our attention to detail, and our drive to make your stay a memorable one, for all the right reasons.
The Redwood Hyperion Suites is more than just a place to recharge and get a good night's rest on your trip; it's an experience all its own. We've taken care to incorporate the beauty of Southern Oregon into every square inch of the motel grounds. Our lovely gardens offer more than a pleasant view and path on which to stroll. Try a picnic in the children's play area, or take a romp with Fido in our dedicated pet area. Take a stroll and truly experience nature, right outside your door.
Our pool area is one of Grant's Pass best kept secrets. Where else can you swim at twilight, beneath towering redwoods, illuminated by the stars? We've created such a relaxing haven that we often find our guests braving the temperatures, long after swimsuit season has left us.
At the Redwood Hyperion Suites, you'll never feel like we're "just another motel". We've taken the same care to match the beauty of our surroundings with the comfort of our rooms. Whether its business or pleasure, a romantic getaway, or a family reunion, we think you'll find the perfect suite to suit your experience.
So, unpack your bags, throw on that bathing suit, and grab that novel you've been dying to read…or just stretch out and relax with us, under the Redwoods.
History & Traditions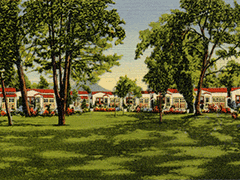 In 1900 there were 8000 registered automobiles in America and by 1947 that number had increased to over 30 million.  Inspired by the "See America First" campaign and by visionaries with foresight and passion for conservation and the great outdoors, Americans started their engines and took to the open road.  Bypassing hotels that had strategically served the railroads, wanderlust drove American's to distant places where demand grew for clean, safe places to stay for the night.
"Auto Camping" and free campgrounds emerged, allowing these adventurous travelers to stay off the beaten path.  But "free" gave way as entrepreneurs catered to the demands of travelers wanting more than a place to pitch a tent.  Developers of these early commercial campgrounds setup tents, bathhouses, and eventually cabins with kitchens and attached garages.   Cafés and gas stations sprung up nearby,…
Contact Us